OK, so why do short weeks feel like they are the longest weeks EV-ER?! We only had a 4 day week (Labor Day) that would NOT end!
On Friday, we were supposed to go to the ZOO to celebrate kids who read 100 minutes per week over the summer...well...I told my class over and over....rain or shine, we're going...be prepared! I get prepared...it's raining...get to work only to find out it's CANCELED! So the kids are saddened that they didn't get their promise (who can blame them) and to REPLACE the LIVE, real-LIVE animals...they watch Madagascar 2 in the gym...on the floor. I felt so sad for the kids... I know disappointment is part of life...but IT WAS SUNNY OUTSIDE! THEN at recess time it was INDOORS???????!!!!! Why you ask??? I HAVE NO IDEA!
So, Tuesday is September 11th. What do you do to
remember
with your class? Our Third Grade reads the book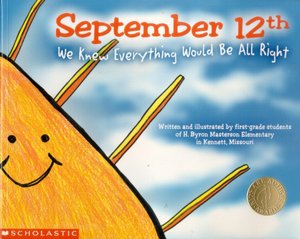 Then we have the students trace each hand. On one hand, they write THANK YOU (to either police, fire, armed services, etc.) and on the other hand they write My hero is.... They can fill in anyone who they believe is their hero. We (that's the teachers) take ALL the hands of Third Graders and assemble them in the cafeteria windows...which face the front of school and the main street...into a GINORMOUS American Flag! It looked Spectacular last year! I will remember to take a picture when it's finished Tuesday and share!
Went to Target today! Their Dollar section is 70% off! So I SCORED on more packs of bookmarks ($.30 each pack), Various flashcards (zoo animals, USA Landmarks, Presidents, etc. $.30), MORE pocket charts ($.30)...AND a HUGE, red bean bag chair at $9! WOO HOO! Of course I already paid full price for the dollar spot stuff earlier...but couldn't resist such a great deal!
Thursday night I set aside all grading and planning...to relax and watch the MTV VMAs! They are one of my fave award shows to watch! LOVED LOVED LOVED Pink's performance of Blow Me One Last Kiss... Can't wait to download her new album coming out!
+
This is a picture of Pink I took at her concert...I was THIS close! FUN RIGHT?!
So excited she'll be on tour again soon!
I listen to Pink on the way to work when I wanna kick butt!
Enjoy your week!