HELLO! I'm back from beyond! I survived the first week of school!!! It was exciting and chaotic!
I love, love, love meeting my new students! I already have a few who are choosing to push my buttons right away...So I pulled one student up and said "I can't believe what a great student you are! I hope you are a terrific student all year long!" Ummmm, he grinned a BIG-OLE grin, and has been an angel all week! I'm hoping it worked... a little reverse psychology?
Can't spill the specifics (privacy and all), but I have a celebrity's child in my class! How exciting is that?! I'm star struck pretty easily...but this is so fun!
Don't remember where I saw this...but I had the kids fill out an "all about me" paper. When all were finished, I had them all stand up and told them to make their papers into a "snowball". *GASP*! You want us to crinkle up our papers?!?!?! Yes! So they crinkled their papers into snowballs and they got to throw snowballs in class 3 times...below the shoulders... Then we all sat down with one snowball in hand...I called on students by pulling sticks...the student shared 3 things from the paper and the rest of the class took 2 guesses to see if we could guess whose snowball they had. It was a blast! They were shocked that I had them crinkle a
school paper
...then actually
throw
it in the classroom...let alone *at* a student!
Chaotic?! Bus mess ups, all week with no student health info (just kinda important, seeing there are peanut allergies and other health issues), scheduling...
I am going to display ELA and Math Standards I am teaching for the day in a pocket chart. So, I made some little Rock Star Themed Headers... Enjoy a FREEBIE! This *should* link up to my TPT store.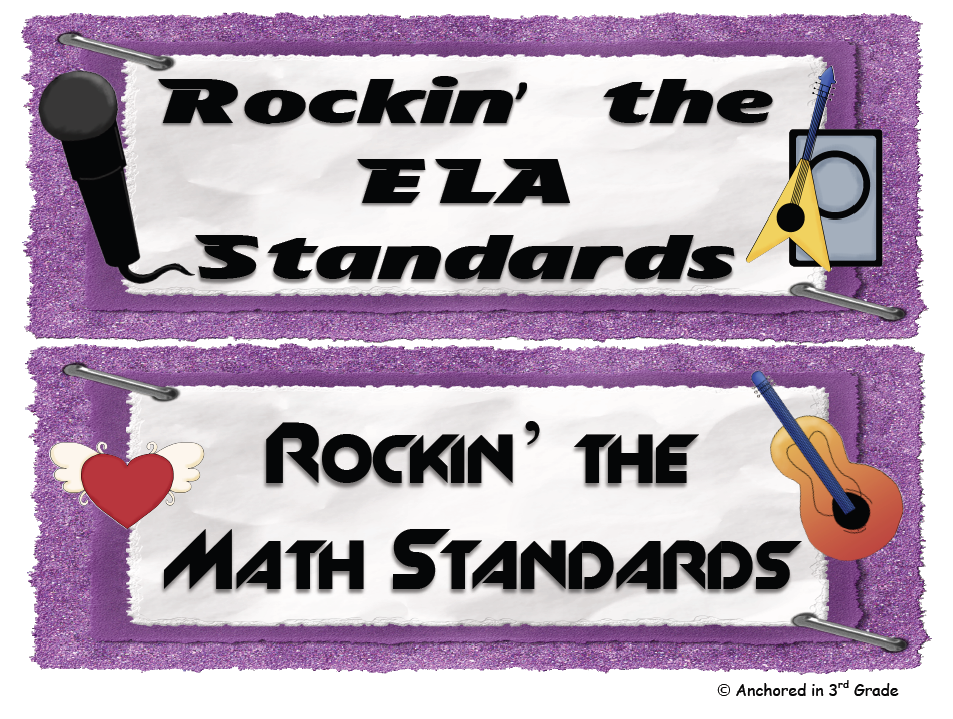 Since it was soooo crazy and we have Curriculum Night for the parents this upcoming week, I forgot to take pics of my new craftiness! I will take some pics of my classroom, post those this week, and show you my new craftiness that I am THRILLED about!
I'll talk to you sooooner!